Couples Massage
Customize Your Finger Lakes Massage Experience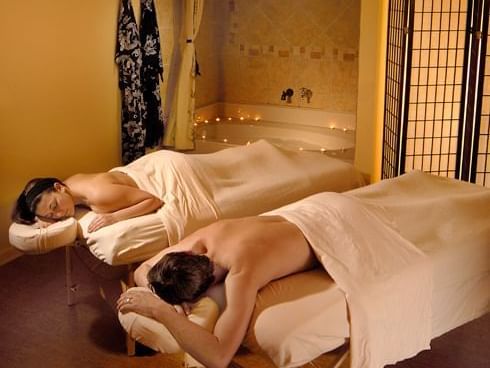 Make your spa experience a memorable one by sharing it with the one you love. Our generously sized treatment rooms allow you and your partner to experience your individual massage services together in the same room.
All classic massage services are available as couples services at no additional charge. This treatment room books in quickly so we recommend advanced notice for bookings!
Integrated Massage Therapy
$125 - 60 MINUTES | $170 - 90 MINUTES (per person)
At August Moon we don't want you to just receive a massage. We want you to receive YOUR massage. Our menu is designed to allow you to customize your experience right down to the oil that is used. Get as detailed or basic with your service as you would like. Unsure what service might be best for you? Call or email our reception desk to help you decide.
On the day of your service your therapist will go through any additional questions, medical concerns, or areas of focus you would like addressed and use their expertise to help make sure what you booked is really what you want. At August Moon our entire staff is focused on making sure you have an ahhhh-mazing experience so please do not hesitate to be vocal along the way if anything can be adjusted to better suit your comforts.
Upgraded Add-Ins (Does not add time to your service)
ITHACANNABIS CBD OIL TREATMENT — $20
Locally sourced CBD oil enhances the relaxation quality of any massage. Used in place of our other massage oils for a head to toe treatment.
MARINE COLLAGEN EYE TREATMENT — $10
An all-natural dermal application eye treatment with amazing instant results. Addresses puffiness, dark circles, and jet lag fatigue.
Deep healing salve using locally sourced herbs and essential oils for muscle and nerve pain. Includes take home of the product for continued use.
MOISTURIZING ECOFIN TREATMENT— $20 HANDS OR FEET / $35 BOTH
Made with a luscious fusion of plant oils, including jojoba, coconut, shea, and sustainable palm, Eco-fin is a paraffin alternative than when heated coats the hands or feet and provides deep conditioning and softening of the skin. Great for arthritis issues or very dry cracked skin.
FULL BODY DRY BRUSHING - $15
Gently removes dead skin and stimulates the lymph system helping to reduce cellulite and allows massage oils to penetrate deeper into the body. Includes take home products to continue at home therapy.
Dynamic cupping uses silicone cups combined into classic massage strokes in a targeted area of the body to release tension and promote a healing response from the nervous system to address chronic pain and immobility without the need for deep pressure work. Cups do not remain static, do not use a fire component and do not leave welts post treatment.
Massage Add-Ons
​Extend and customize the experience of your massage by focusing extra time where it's needed most.
HEAD NECK SHOULDERS FOCUS — 15 MIN $30
Extra attention focused on the most common problem areas.
Full body or targeted issues acupressure helps to release tension being held by the nervous system.
EXFOLIATING BACK SCRUB — 15 MIN $35
Using a gentle maple sugar scrub to buff away dead skin and calm and cleanse sebaceous glands.
Scrub is back focused only and does not require a shower for removal.
REFLEXOLOGY -- 30 MIN $60
30 minutes of focused attention on the reflex maps in the feet which can help address internal issues and relieve tension throughout the rest of the body including postural conditions
FOOT TREATMENT -- 30 MIN $70
Pamper your soles with a 30 minute foot treatment that includes a hot towel cleanse, exfoliation, moisturizing paraffin and deep conditioning foot massage that will leave you feeling like you don't want to step down from the table afterwards.